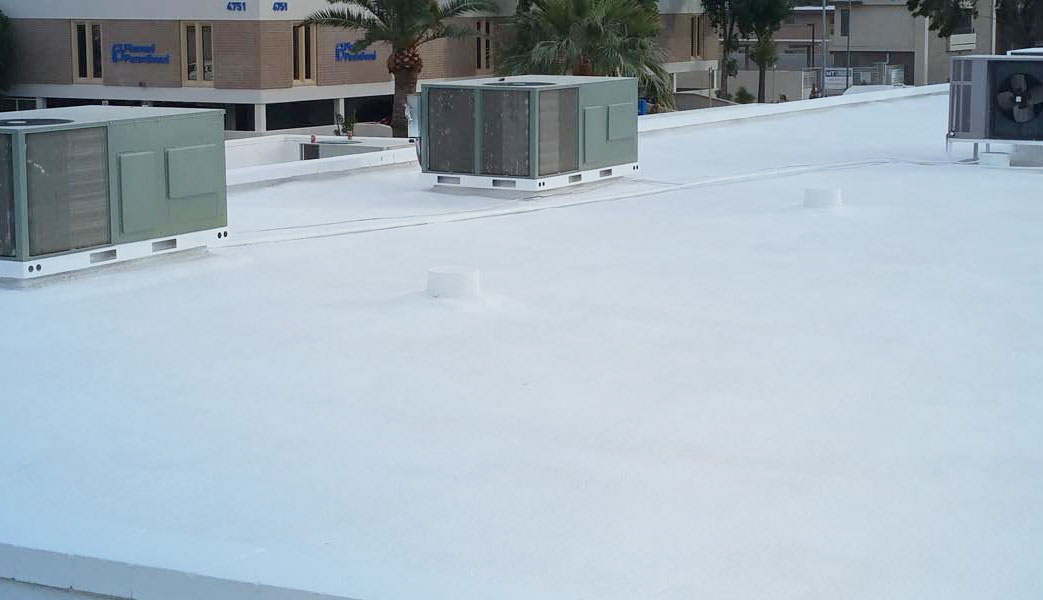 If you are searching for "foam roofing", "foam roofing contractors", "foam roofers near me", "Foam Roof Coating" or "spray foam roofing" in Phoenix, Scottsdale or Mesa, Arizona, Paul's Roofing can help!
Paul's Roofing is an experienced foam roofing company offering spray  foam roof repair, foam roof replacement and foam roof installation in the Phoenix Metropolitan area of Arizona.
Receive a free spray foam roofing estimate in Phoenix today by filling out our short contact form or by giving us a call at 480-964-4006.
[caldera_form id="CF59a851dd5f3bd"]
What Is Spray 

Polyurethane Foam Roofing?
Sprayed Polyurethane Foam Roofing is a combination of isocyanate and polyol. These two components are fed through a proportioner which heats then pumps the two separate components to the spray gun, where they are mixed and sprayed onto the substrate. Because it is sprayed onto the roof as a liquid, it forms a single continuous structure that is seamless and very stable. SPF requires a clean surface for proper application. It must be dry, free of contaminants like oil, and properly fastened to the substrate in accordance with the proper building codes. A protective elastomeric top coat is required which is typically sprayed on.
Spray Foam Roofing Systems have Many Advantages 

vs Traditional Roofing Methods
Spray Polyurethane Foam has been used as a roofing and insulation material for over 45 years. During this time, foam roofing systems have proven themselves through comprehensive, independent studies to be dependable, long lasting, and very affordable. Today there are foam roofs that have been in place for decades, and by all appearances they should be able to last indefinitely as long as they are properly maintained.
Seamless Installation
Polyurethane foam is applied as a liquid, creating a single monolithic membrane that covers the entire roof. There are no seams or joints, the source of the majority of leaks in traditional roofs.
Flexible
The foam can be sprayed onto virtually any surface, irregularly shaped roofs and protrusions are readily taken care of.
Lightweight
Foam roofing typically weighs around 50 lbs. per square, versus 800 lbs. for a built-up roof and 100 lbs. for ballasted single-ply roofs.
Sustainability
Foamed roofs require a minimum of upkeep, creating little waste and have an indefinite lifespan.
Thermal Insulation
SPF has the best insulating properties available for commercial construction today. Sprayed polyurethane foam has an R-value of 7.14 per 1 inch thickness, enabling it to provide more thermal resistance than any other type of roofing insulation. Foam roofing produces energy savings of up to 30% or greater when compared to the alternative roofing systems. The cost of the roof can easily be recovered in under 5 years, simply through these energy savings alone! SPF systems are frequently used to insulate and protect a wide variety of specialty structures.
Foam Roof Repair
We provide foam roof repair, spray foam roof leak repair and foam roof recoating for damaged foam roofing systems in Phoenix, Scottsdale, Mesa and Gilbert, Arizona.
Foam roofing systems in Phoenix are perfect for the hot temperatures experienced in sunny Arizona. Most traditional roofing systems will only last you about 15 years in the Phoenix Valley, while foam roofing systems can last up to 50 years or longer as long as they are maintained, primed and recoated every so often. Flat foam roofing systems are by far the easiest when it comes to foam roof repair. While single-ply and BUR (built-up roofing) systems have to be replaced, foam roofing systems only need to be repaired or recoated to last 50 years or more. If you looking for a lifetime roofing system, foam roofing is for you.
Spray Foam Roof Leak Detection & Repair
Paul's Roofing offers spray foam leak detection and repair services to help fix leaky roofs and other types of spray foam roofing problems like ponding water, foam roof leaks and more. Usually spray foam roof leaks came from dropping tools, rooftop traffic or storm damage. Holes or cracks in spray foam are usually an easy fix by filling the holes, caulking and resealing the foam. We also fix poorly installed spray foam roofing systems.
Foam Roof Coating & Recoating
Coating or Recoating a low-sloped or flat roof can extend the life of your foam roofing system and help cut down on cooling costs. Re-coating or re-sealing your foam roof, also called Foam Roof Recoatings, will make your SPF roof new again and can help prevent leaks and lower your cooling costs. This will also provide a protective barrier from physical abrasion and chemical corrosion.
Residential, Commercial & Industrial Foam Roofing Contractors. 

We can repair or install any type of foam roofing system!
HOMES / APARTMENTS / CONDOS
WAREHOUSES
BANKS
LOCAL CHURCHES
SHOPPING MARKETS
CLINICS & HOSPITALS
GROCERY STORES
INDUSTRIAL BUILDINGS
COMMERCIAL BUILDINGS
GYMNASIUMS
SCHOOLS & AUDITORIUMS
AND MORE…
Foam Roof Installation
We provide foam roof installation and foam roof replacement in Phoenix, Scottsdale, Mesa and Gilbert, Arizona.
If your foam roofing system is near the end of its life, starting to leak or showing major signs of damage or wear, give Paul's Roofing a call for a free foam roof inspection. Our foam roofing contractors will visit your home or office to inspect your roofing system for free to find out if foam roofing is right for you or if there is another type of roofing system that would work better. Foam roofing is perfect for anyone who is looking for a lifetime roofing system. Installing a foam roof will ensure you never have to replace your roof again.
Reviews & Testimonials
This contractor was easy to work with and provided fair pricing. We have had both our flat roof and tile roof replaced by them at a very fair and reasonable price. I highly recommend them.
Flat Roof Replacement & Tile Roof Replacement
Scottsdale, Arizona
How Much Does 

Spray Foam Roofing Cost?
The average spray foam roofing cost in Arizona is around $6,300 for homeowners and $55,000 for business owners. Estimates based off of a 1200 sq ft home and a 10,000 sq ft commercial facility. *Disclaimer, this is not an actual quote. Contact us to get an actual quote for your roofing project. Learn more about how much spray foam roofing costs here.
How Much Does 

Foam Roof Recoating Cost?
Silicone coatings provide long-lasting weatherproofing and excellent durability and are perfect for covering spray polyurethane foam roofing systems (SPF). According to HomeAdvisor, the average cost of foam roof recoating is around $1.25 per sq ft. Costs range from $1.00 – $1.50. *Disclaimer, this is not an actual quote. Contact us to get an actual quote for your roofing project.
Spray Foam Flat Roofing
Spray foam is a great flat roofing option! One of the greatest advantages of spray foam roofing is the fact that is spray applied. This means there are no seams for water to make its way in making this a waterproof roofing system. Some experts believe that spray applied coatings are the best flat roofing material available.
Is Foam Roofing Worth It?
Yes, foam roofing is worth it if you live or do business in Phoenix, Arizona. Spray foam roofing is perfect for hotter climates because it is energy efficient and can help lower your high electricity bill during the hot summer months. Plus, its seamless, waterproof and low maintenance unlike other types of roofing systems. Spray foam roofing systems will last for decades and are one of the best flat roofing systems available.
What Are The Most Common Foam Roof Problems?
The most common spray foam roof problems include:
Damage to fascia
Loose spray foam
Storm damage
Water ponding
Venting damage
Wood rotting
Foam roof leaks
Flashing leaking
Spray Foam Roofing 

Pros & Cons
Pros
Fast Installation
Energy efficient
No leaks
Sprayed on
Easy maintenance
No seams
Waterproof roofing system
Resists ponding water
Renewable & sustainable
Cons
Higher cost
Requires technical knowledge for proper installation
Cannot be installed during when moisture or ice is present
We offer Free Foam Roofing Quotes in Phoenix, Scottsdale, Mesa and Gilbert, Arizona, with no obligations! We can answer all of your questions and work with your budget and schedule.
We look forward to hearing from you contact us today!